(Last Updated On: January 4, 2020)
Finding the right accessory for gym will not just help you concentrate on the work schedule, but will also help you look good. We asked the ladies about their favorite headwear for the gym, and this is the list we came up with:
1. RiptGear Yoga Headbands
Constructed with four inches of non-slip material, this headband can be recommended for both intense and subtle games. The band will remain in place even during the most strenuous routines, absorbing an incredible amount of sweat. You can select from an assortment of prints, including tribal prints, Hippie flower, Paisley flowers, Tile black, and teal. Even its maintenance and easy care are appreciable.
Check Prices | Read Full Review
2. BLOM Multi Headband
Those who put comfort above sweat absorption, BLOM Multi Headband are the right choice. It's ultra lightweight and manages to absorb the sweat quite decently. If you are not an ultra sweater, go for it. Buy it and it will survive both summer and winters. Wider than most of the headbands, this is one stylish choice for sure.
Check Prices | Read Full Review
3. French Fitness Revolution Yoga Headbands (Turban Style)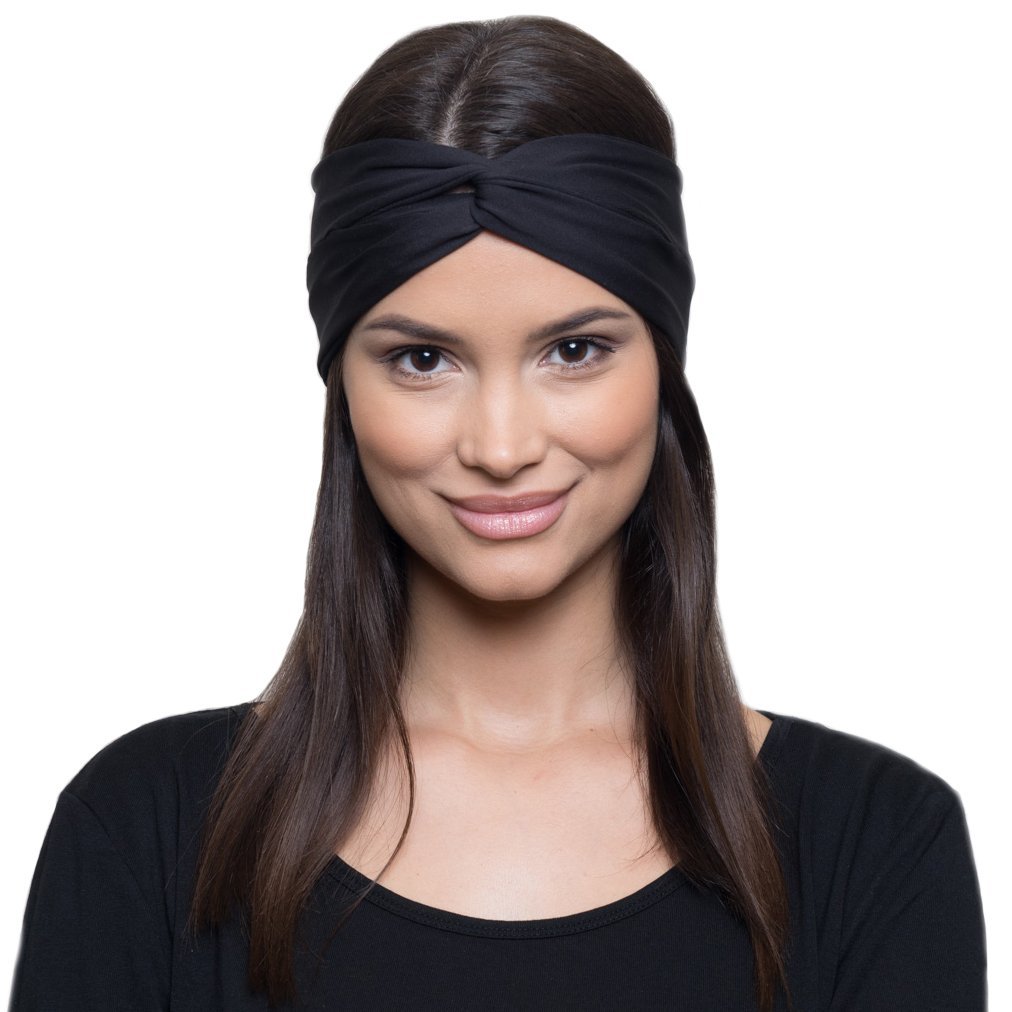 Once again a comfy and lightweight option, that performs well for all sorts of outdoor activities. Use it for running, skating or just while in the kitchen, it supports all sorts of activities. We love its turban style, plus it won't stretch or fade. However, don't expect high in terms of sweat absorption.
Check Prices | Read Full Review
4. Temple Tape Workout Sweatband
The moisture-wicking technology used in this Temple Tape Workout Sweatband makes it worthy for every season. Even during the most arduous activities, you won't feel it soaked in sweat. The material is light and stretchy, which means it will last longer than anticipated. Stylish, good sweat absorber, and comfortable, this is one-stop solution to your field requirements.
Check Prices | Read Full Review
5. Heathyoga Headband
As the name suggests, it's a perfect yoga headband. You will find it to be wide, thin, lightweight and decent sweat absorber for a yoga class. Being wide enough, it keeps the locks in place for longer hours. There hasn't been any complaint about headaches and other discomfort while wearing it. We won't recommend it for any strenuous activity, but you can definitely stick to small hours of outdoor fun.
Check Prices | Read Full Review
6. Nike Dri-Fit Head Tie 2.0
With 95% nylon in it, Nike Dri-fir Head Tie 2.0 is the next generation headband. It has got remarkable elasticity as well as water resistance. The moisture gets pushed towards the surface of the fabric, saving you from the sweaty distractions. Hand-wash or machine-wash, it won't affect the quality of the headband.
Check Prices | Read Full Review
View our current list of the Best Sweatbands.
Summary
Article Name
Description
The best headbands for women to use while working out, practicing Yoga and more. Featuring brands you may never have heard of but are sure to be the best quality!
Author
Publisher Name
Publisher Logo